Authors
COLLEEN ADAMS | STEVE ADAMS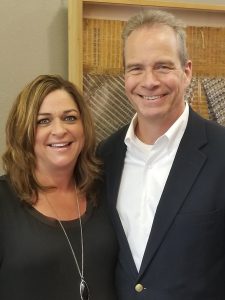 God has called us together on this very unique journey. Writing about it is only one facet. We've walked our life out loud the last decade or so and it hasn't always been pretty.
Throughout our lives, but particularly at an early age of innocence, we all are exposed to deep hurts inflicted on us by others and then later by our own foolish choices. Those broken places then show up in behavior driven by a misunderstanding of our true identity, masked in lies that we believe about ourselves and God. The good news is there's healing available to everyone willing to say and mean, "I want to be well". Jesus' life is a testament to what love looks like and what ours can look like if we choose to center ourselves on the journey toward healing in Him.
We met 28 years ago, introduced by a mutual friend. That mutual friend was Steve's best friend in his late teens and early 20's and Colleen's dating partner and soon to be fiance'. Little did we know that 26 years later Steve would be standing in front of Colleen, for only the second time, at a Memorial Service grieving the loss of that dear friend and her then husband. But God intersected the lives of two people for one purpose. To bring the message of healing to anyone willing to hear Our Story. Two people, traveling parallel paths of restoration through, oftentimes, horrific individual circumstances while independently saying, "I want to be well". But God…..
That story will be told in intimate detail as God unfolded two lives willing to be changed, transformed, renewed and healed by the powerful love of Jesus Christ. Healed as a testimony to what's possible for every follower of Christ. Join us in that journey.
Embracing Brokenness ….. How God Uses Failure and Adversity to Create Wounded Healers