From The Authors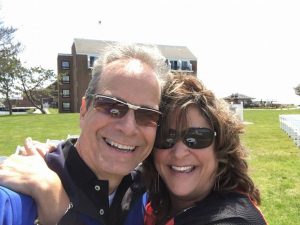 It's been an amazing journey. And now God has another trail for us to blaze. Together. A new ministry, a new book project, and the privilege of seeing God change lives right here in our own city. Look around a bit and email us with comments and questions. We'd love your feedback and your prayers as we launch into a new season of life. One filled with intrigue and adventure. Won't you join us?
Embracing Brokenness
We were born into an imperfect world to imperfect parents as imperfect people. We inherited a mess. When Adam and Eve bit that darn fruit everything changed. Where perfect fellowship was broken in a heartbeat. But God…. Provided a way. A way to heal the wounds of our past and experience His unconditional love.
Sign Up
Sign Up for book launch updates and periodic media and event announcements.
Return to the Garden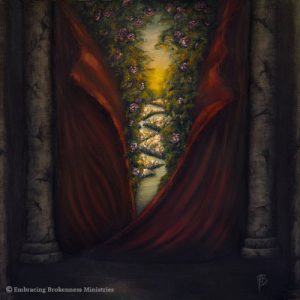 Return to the Garden – Through Jesus, we all have the capacity for intimacy with God. The same relationship we had walking and talking with Him in the Garden of Eden. The temple veil was torn when Jesus gave His life for us providing complete access to the His throne room and full, uninhibited intimacy with Him. We learn to see echoes of God in all creation. Noticing His invasion into our everyday life. As it was always intended to be.
The Tree of Brokenness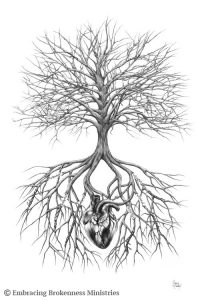 The Tree of Brokenness illustrates futile attempts to meet our own needs apart from God leading to extreme brokenness in our lives. Choosing to do so makes it impossible to walk in the fruits of the Spirit promised to every believer. The broken root system – representing core longings that can only be met in God – separate us from our heart and distances us from Him largely as a result trauma and wounding in our lives. Our response is to act out through dysfunctional behavior – illustrated in the branches – as we seek to fill the spot only reserved for Him.
The Tree of Restoration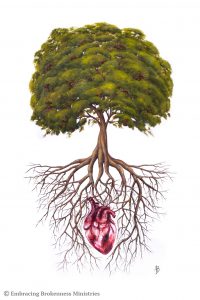 Tree of Restoration – Once our traumas and wounds are addressed – through Christ – we are equipped to experience a whole new relationship with God, our core longings fully met in Him. The result of this transformed relationship is a vibrant, blossoming life exhibiting all the fruits of the Spirit. Fully alive in Him – our identity secure in the truth of who we were created to be. A restored child of God.